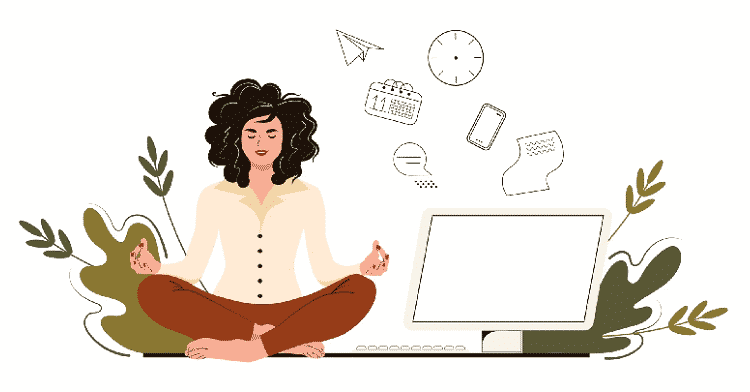 An HR Guide To Mindfulness At Work
Watch the Video
An HR Guide To Mindfulness At Work
According to a 'Health at Work' survey, about 80% of the employees reported being stressed at work and need help to manage it. An effective solution to this is Mindfulness at work. More and more organizations across the globe are now focusing on and promoting mindfulness at the workplace.
Definition Of Mindfulness
What is Mindfulness?

Simply put, mindfulness is being aware, paying attention to the present moment and refraining from judging. Interestingly, this concept has its roots in Buddhist literature and helps in establishing a heightened sense of awareness about oneself and the environment around.

From Google to General Mills to NHS; many organizations are preaching and practicing mindfulness at work. Harvard School of Business has even included mindfulness principles in its curriculum for the leadership programs. Therefore, the importance of mindfulness has only grown due to the onset of the COVID 19 pandemic and the consequent remote working.
Benefits Of Mindfulness
What are the Benefits of Mindfulness for Organizations?

Practicing mindfulness provides benefits not only for individual employees, but has a positive impact on the entire workplace. Why mindfulness should be practiced at the workplace:

1. Improves Overall Employee Wellbeing

Organizations are focusing and investing more and more into the wellbeing of the employees, taking into consideration the increased costs of an unhealthy workforce. These costs can range from poor productivity, high absenteeism, and even high turnover. Therefore, organizations are offering mindfulness training to enable the employees respond positively in difficult situations and not become victims of burnout, work stress and appraisal issues.


2. Reduces Stress Levels

Mindfulness at work helps in reducing stress, which is a dominant cause of employee disengagement and low productivity. Hence, to combat this, prominent companies such as Google, Goldman Sachs, Adobe, Mayo Clinic etc. have launched mindfulness programs that promote employee engagement and stress reduction.


3. Fosters Better Relationships with Coworkers

The cornerstone for employee happiness is the healthy working relationship among peers. Hence, this is particularly important at this time of hybrid working which is full of stress for the employees and their supervisors as well.


4. Improves Learnability and Innovation

Also, employees can open their minds to absorb new information by taking a break from critical thinking or problem solving. Hence, organizations are now offering mandatory leaves to avoid employees dealing with excessive stress and a stagnant level of thinking.
Best Practices Of Mindfulness
How can Organizations Promote Mindfulness?

Here are a few ways how organizations can promote the practice mindfulness at work: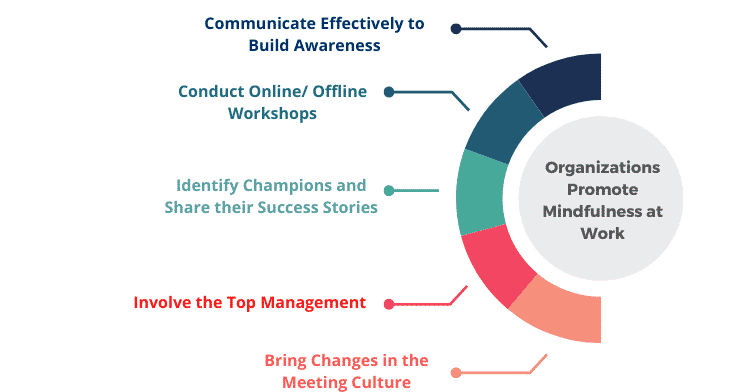 1. Communicate Effectively  to Build Awareness

Initially, organizations should run online and offline campaigns to build awareness about practicing mindfulness and communicate its benefits clearly. Therefore, they should design these campaigns thoughtfully with images, videos and infographics.  

Digital platforms such as emails, intranet, Teams/ Slack channels, WhatsApp groups, etc. should be used effectively to communicate the importance of mindfulness. Organization can supplement this through posters, standees, tent cards, LED displays, etc. to reinforce the message  for employees working from office.


2. Conduct Online/ Offline Workshops
 
Additionally, the organization should enlist the services of experts to train employees in the practice of mindfulness. Celebrity trainers can also be roped in, if budgets permit, to generate higher level of interest among the employees.
 
The organization should conduct training sessions virtually through video conferencing platforms for the benefit of those employees who are working from home. Also, they should record these sessions and make them available on the intranet or on the employee wellness portal, if there is one.
 
Also, the organization should conduct offline sessions for in-office employees with the necessary Covid-related precautions.
 

3. Identify Champions and Share their Success Stories  

Employees who show high level of interest and involvement in the practice of mindfulness should be roped in as champions or ambassadors. Hence, organizations should encourage them to share their success stories on various digital platforms within the organization. Therefore, such positive experiences are likely to inspire other employees to start practicing mindfulness as well.
 
 
4. Involve the Top Management
 
Also, it is best to start at the top by roping in the top management to practice and preach mindfulness. Mindfulness coaches/ experts can conduct personalized sessions for them.
 
The top management should not just practice mindfulness themselves but also promote it within the workforce in every possible forum. They should share their personal experiences and the benefits that they have received.

 
5. Bring Changes in the Meeting Culture

Additionally, meetings can be a great source of stress, anxiety and restlessness for employees. Therefore, organizations should aim to increase the productivity of internal meetings by making them shorter, time-bound, agenda-driven and limited only to participants who can add value to the meeting.

Also, best practices such as communicating the meeting agenda clearly well in advance, keeping the discussion focused and to the point, and circulating the action items post meeting can be really helpful.

Hence, organizations should ensure that managers and team leaders are coached to manage meetings effectively and turn them into ideal forums to practice mindfulness.
 
Bottom-line
Mindfulness at work is an effective way to create a low stress, highly productive and positive work environment. Hence, organizations need to effectively promote its practice among the workforce.
To stay updated on the latest HiFives blogs follow us on Twitter (@MyHiFives)