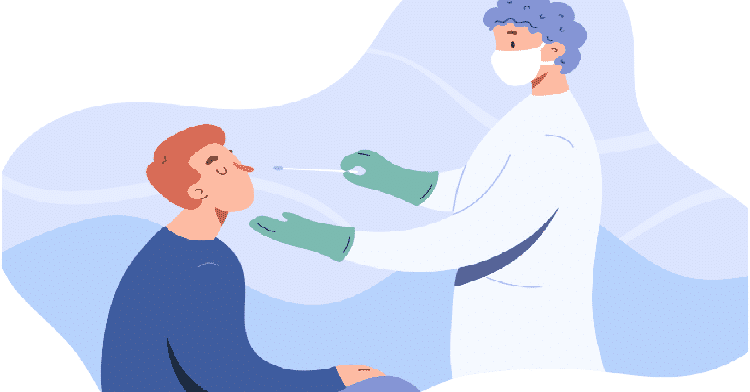 How Organizations are fighting to support Employees during COVID
Considered as one of the worst health emergencies, the ongoing COVID crisis has impacted millions of people globally. The second wave in 2021 has wrecked havoc in India, infecting millions, causing severe shortages of medical supplies, and resulting in thousands of deaths. In the midst of this healthcare nightmare, organizations are doing whatever they can to support employees during COVID.
Key Challenges being faced by Employees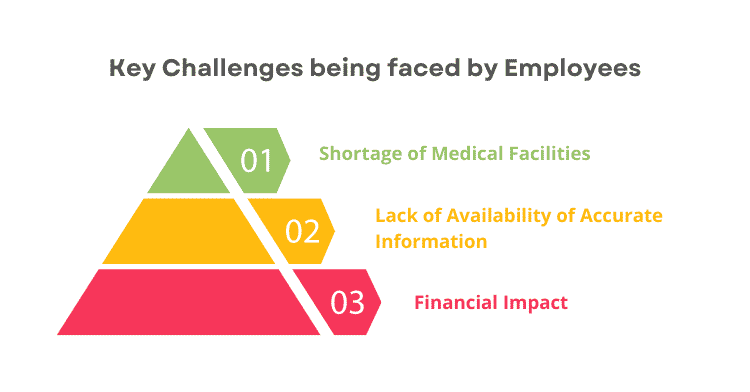 1. Shortage of Medical Facilities
With nearly half a million getting infected daily, there is huge shortage of hospital beds, ICUs, oxygen, medicines, etc. Hence, employees and their families are getting infected by COVID and are unable to get access to timely medical treatment.
2. Lack of Availability of Accurate Information
Employees are finding it difficult to find accurate information about the availability of hospital beds, and medical supplies. Plus they are also trying to grapple with entire process of prevention, testing, treatment, and recovery.
Hence, affected employees and their families are running around to get the correct information. It is causing a panic and distress and often delayed treatment, and sometimes even death of the patient.
3. Financial Impact
The costs of medical treatment especially in private facilities is significant. Employees who have been infected or whose family members have been infected, are often struggling with the financial implications of the treatment and recovery.
Also, families of employees who succumb to COVID are likely go through severe financial distress.
What can organizations do to provide support to employees during COVID?

Organizations have responded to the current COVID crisis with great alacrity and are working on a war footing to provide support to their employees.

Here are some of the ways organizations are trying to support their employees through this COVID crisis:
 

1. Set up Employee Helpdesk

With the country's healthcare system overwhelmed by the growing caseload, TCS is one such organization that has set up a COVID-19 Helpdesk for employees to seek any assistance required, along with a 24×7 TCS Medical Hotline to reach doctors and TCS Cares services for counselling.

Capgemini has a centralized, all-India command center that addresses the employees' and their dependent's medical emergencies and needs related to availability of hospital beds, ICU, ventilators, ambulance service, blood plasma donors, oxygen concentrators, and medicine requests.

Read  about How India Inc. is helping employees combat COVID-19

 
2. Provide Home Treatment and Remote Doctor Consultation

HDFC Bank too is providing e-consultation with doctors through apps including Apollo 24/7, MediBuddy, PharmEasy, with PharmEasy helping with delivery of medicines as well. Additionally, the bank has also provided access to e-consultation with empanelled psychologists through these apps.

Wipro has also launched the nurturing wellness platform, which  offers doctors, nutritionists, health coaches, virtual consultations, and 24×7 emergency care experts.

Paytm has purchased home medical equipment, including oxygen concentrators, for its team members and their families.

Read about IT companies expand COVID care facilities for employees

 
3. Set up COVID Care Facilities

HDFC Bank has already converted three of its training centers in Gurugram, Pune, and Bhubaneswar into isolation centers for its COVID-positive employees.

Infosys is also following a similar strategy by setting up COVID care centers for its employees and their kin in Pune and Bangalore.

Similarly, TCS has set up COVID care centers for its employees across 11 cities in India.

Further, Amazon, ITC, Capgemini, RPG Group, and Cognizant have also set up COVID-care centers through tie-ups.

Read about COVID Relief: India Inc shows it cares, puts employees' wellbeing before profits

 
4. Modify Sick Leave Policy

Most organizations are providing additional paid leave to employees who have tested COVID positive and require treatment. Infosys has said that employees who have contracted or are recovering from COVID will get 21 days of additional paid leave.

Companies such as Tata Steel, Google, Deloitte, and Amazon  are providing 14-day special sick leave to their employees testing COVID-positive, as a policy.

Others like ITC, Optum, and Phillips have gone a step further by providing unlimited COVID leave policy for their employees.

Food delivery platform Swiggy announced a 4-day work week for employees in May, where employees can choose the days they want to work and use the extra day to rest and take care.

Read about How companies are protecting their back offices during the COVID surge in India
 

5. Create Testing and Vaccination Programs

Wipro had organized a vaccination camp at its Electronics City campus for Bengaluru-based employees.

TCS has undertaken a vaccination drive for its eligible employees and their dependents, through its hospital tie-ups across locations

Other IT companies such as HCL Tech, Infosys, and Tech Mahindra, too have already set up COVID-19 test centers for their employees.

Similarly, Bry-Air and DRI have been setting up vaccination facilities for their employees in collaboration with Medanta Hospital.

Several companies, including PricewaterhouseCoopers, Accenture, Grofers, Cars24, Deloitte have announced that they will sponsor the cost of vaccines for their employees and some for their families as well.

Read about From vaccination to COVID-care centres, IT firms step up employee support amidst deadly second wave
 

6. Provide Special Insurance Cover and Financial Assistance

Companies like Amazon are providing advance salaries for employees who need it.

Microsoft announced that they will cover expenses of their employees and dependents in case there is hospital admission for COVID-19 up to 10 days. Additionally, they have increased the insurance cover by 2.5 lakhs.

Altimetrik has rolled out a special insurance policy for its 2000 employees operating across India.

Similarly, L'Oréal India has offered one-time COVID-19 insurance for those who test positive and has extended this to its field ecosystem of distributors and sales representatives.

Borosil has announced that it will continue paying the salary of employees for two years who die due to COVID. Also, they have decided to shoulder the responsibility of the education of the children of such employees up to their graduation.

Read about Loans, children's education, mental health: India Inc hand holds employees through COVID-19 second wave
 

Bottom-line
Corporate organizations are pulling out all stops to help and support their employees and their families through the current COVID crisis in India.
To stay updated on the latest HiFives blogs follow us on Twitter (@MyHiFives)