Should Organizations Recognize Employees for Community Service?
Organizations today are increasingly becoming aware of their responsibility of contributing towards the better of the society and the wider community. A large number of organizations offer financial and material assistance for community service. Others encourage the involvement and participation of their employees in community service. Should organizations recognize employees for community service?
Evolution of Employee Recognition
Traditionally, organizations have been recognizing employees for their efforts, contributions, and achievements that help in driving business growth.
More recently employee recognition programs have come to include specific behaviors that have a positive impact on other organization values such as collaboration, innovation, integrity, etc.
Hence, many progressive organizations have started recognizing their employees who participate in community outreach programs,
Recognizing Employees for Community Work
What are the benefits of recognizing employees for service to the community?

When it comes to recognizing employees volunteering for community services, organizations need to justify the same.

The most important benefits for such initiatives are as follows: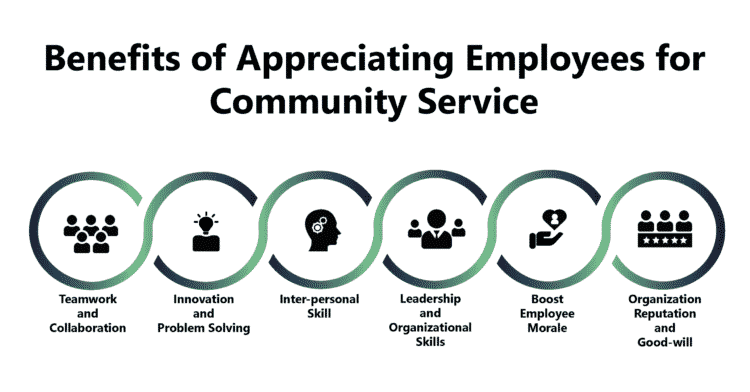 1. Improves Teamwork and Collaboration

Encouraging employees to contribute voluntarily to community service can help in improving the sense of coordination and cooperation among co-workers. In fact, volunteering teaches employees the art of giving without expecting anything in return and gradually this habit can become an integral part of their personalities.

Additionally, it would inspire other employees to volunteer. Over time, it becomes part of the work culture of the organization. This ensures that co-workers show a greater willingness to help and support each other, creating a work environment that is based on coordination and collaboration.


2. Encourages Innovation and Problem Solving

Employees might also get opportunities to utilize their technical capabilities and creative thinking to overcome practical challenges of community work. This too can have a positive impact on their performance at work and help in business growth.


3. Builds Interpersonal Skills

Employees volunteering for community services develop better interpersonal skills. This is because they have to deal with individuals of different personality types, temperaments and backgrounds. Employees are able to empathize with people they are trying to serve.

They learn to deal with different types of people with greater patience and confidence. This rubs off on their dealings with their difficult colleagues at the workplace. Hence, it helps build conflict management skills and helps in creating a more peaceful and harmonious work environment.


4. Hones Leadership and Organizational Skills

Most organizations understand the importance of identifying potential leaders and groom them for bigger roles within the organization. Employees volunteering for social service often exhibit the key traits that the organization would look for in a good leader. These include effective communication and interpersonal skills, ability to motivate others, and the confidence to take initiatives and overcome challenges, etc.

Organizations can then nurture such potential leaders through right guidance, mentoring, and support to take up key organizational positions sometime in the future.


5. Boosts Employee Morale

When employees get recognition for something that is for the greater good of society and not just themselves or the organization, they feel that the organization truly values and appreciate them as individuals. Hence, it helps in boosting their morale and improves their sense of self-worth. It helps them earn the respect of their co-workers and society at large.

It helps to improve the overall motivation levels of the employees which can have a positive impact on their performance and efficiency at work.


6. Improves Organization Reputation and Goodwill

When an organization chooses to recognize its employees for their social work, it sends out a strong positive message to the entire professional community. Such gestures are reflective of the fact that the organization takes its corporate social responsibility very seriously and promotes similar behavior by the members of its workforce.

Hence, it creates a positive impact on the perception of the organization among its customers, business partners, suppliers, and other stakeholders. So, they perceive the organization as a responsible corporate citizen. It enhances its market credibility and goodwill.

Bottom-line
Recognizing employees for their contribution towards community service goes to show that the organization too cares for the greater good of society and encourages its employees to be directly involved in such initiatives.
To stay updated on the latest HiFives blogs follow us on Twitter (@MyHiFives)